Intakemazolo Combined School learner crowned winner of SAICA Grade 7 EMS Quiz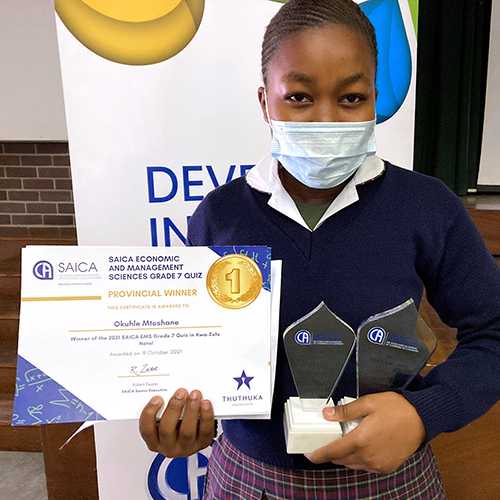 276 Grade 7 learners from 14 schools in the Mpumalanga and Kwa-Mashu district took up the challenge to participate in SAICA's quiz, which put their numerical literacy to the test. Prizes were awarded to the best performers in each province.
Taking part in two rounds during the month of September, top learners were recently celebrated at a special awards ceremony held at Pinetown Senior Primary School. These learners are:
1st place: Okuhle Mteshane from Intakemazolo Combined School
2nd place: Okuhle Madonsela from Ekwenameni Primary School
3rd place: Motaung Mpumelelo from Isiqalo Primary School
'On behalf of SAICA, I would like to congratulate all the learners who took part in the KZN EMS Quiz – with special mention to the learners who achieved the top three spots,' says Robert Zwane, SAICA Senior Executive: National Imperatives.
The importance of starting young
As a country, South Africa's maths performance level continues to seriously underperform the global average. Extremely low numeracy levels are one of the key reasons why most learners opt out of continuing with maths beyond Grade 9 and pursue maths literacy instead. It is for this reason that improving learners' performance in maths and numeracy must start at a primary school level.
'When you consider that a good understanding of mathematics not only enhances a child's ability to do well in STEM subjects, but is also crucial to cope well with various aspects of an adult's working and personal finance life, the importance of initiatives like this is clear. Indeed, if there's one thing we hope all those who participated remember it is that "maths matters". We look forward to seeing how these learners develop their numeracy skills further so that they can achieve even greater things at high school,' concludes Zwane.
About SAICA:
The South African Institute of Chartered Accountants (SAICA), South Africa's pre-eminent accountancy body, is widely recognised as one of the world's leading accounting institutes. The Institute provides a wide range of support services to more than 50 000 members and associates who are chartered accountants (CAs[SA]), as well as associate general accountants (AGAs[SA]) and accounting technicians (ATs[SA]), who hold positions as CEOs, MDs, board directors, business owners, chief financial officers, auditors and leaders in every sphere of commerce and industry, and who play a significant role in the nation's highly dynamic business sector and economic development.
Chartered Accountants are highly valued for their versatile skill set and creative lateral thinking, that's why all of the top 100 Global Brands employ Chartered Accountants.
About the Thuthuka Bursary Fund and Education Upliftment Project:
One of SAICA's prime goals is to contribute towards strengthening the country's economy by playing a significant and leading role in transformation and skills development. Through Thuthuka, a pioneering initiative to promote transformation in the profession, SAICA launched its transformation efforts in the Eastern Cape in 2002 and has grown this into a national project that includes various interventions across the education value chain as well as the highly successful Thuthuka Bursary Fund.
Thuthuka's objective is to transform the demographics of the profession to reflect those of the country in terms of race and gender, and provide educational support to African learners and students for the benefit of the profession, while simultaneously helping to uplift communities. Therefore, SAICA prides itself in leading the chartered accountancy profession as a socially responsible driver of business and skills development by supporting and encouraging enterprise development initiatives.
SAICA Media Contact
Ms Karin Jacobsen
Project Manager: Marketing and Communications
SAICA Nation Building Division
Tel: ‪011 621 6913
Email: ***@saica.co.za